Hong Kong IPO Market – 2018 Forecast
Publication date: 2018-01-17
Over the past years, our market has evolved a lot to enhance our competitiveness.
Hong Kong becomes world's top 5 in terms of IPO funds raised for 14 consecutive years.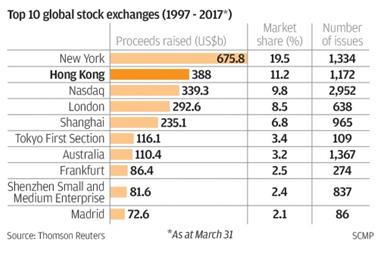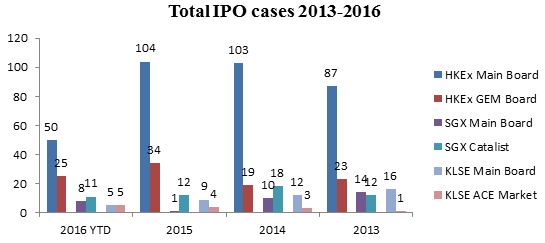 On 15 December 2017, Hong Kong Exchanges and Clearing Limited (the HKEX) published the Consultation Conclusion on the Review of the Growth Enterprise Market (GEM) and Changes to the GEM and Main Board Listing Rules (the GEM Conclusion), the revised Listing Rules will be effective on or after 15 February 2018, with transitional arrangements.
GEM and Main Board Listing requirements will be aligned more closely
GEM will become a standalone market for small and mid-sized companies instead of a stepping stone to the Main Board
Under the revised regime, Hong Kong expected to become an increasingly attractive source of capital. With stricter rules and heightened listing criteria, we expect GEM to attract quality issuers that meet our high standards. Companies are increasingly more positive on Hong Kong as a preferred listing destination.
In 2018, global aging and technological innovation are two of the major issues, aided by the Chinese government's efforts to spur tech firms to go public. We see more modest returns in many asset markets, highlights the importance of a considered, long-term strategic perspective. We need to welcome companies to our market that better reflect the drivers of the new global economy, companies that are transforming existing industries and shaping new ones.
2018 is expected to be another good and prosperous year!
South China Financial Holdings Limited
Mr. Dennis Ow, Head of Corporate Finance
Mr. Ow is an experienced business development and corporate finance executive with extensive knowledge of the capital markets, compliance and corporate governance.
​cf@sctrade.com
免責聲明
投資涉及風險。
本演示或材料不構成任何要約、市場推廣、保證、擔保、意見或建議。
保留版權所有及一切權利。
任何用途均須遵守所有適用之法律。
免責聲明投資涉及風險。 本演示或材料不構成任何要約、市場推廣、保證、擔保、意見或建議。 保留版權所有及一切權利。 任何用途均須遵守所有適用之法律。