Deposit & Withdrawal
We hereby remind all our clients to ensure that the recipient(s) of your money deposit and transfer is/are under our South China Group, and your account(s) to which you deposit or transfer money are under our designated account(s), for which please visit the section 'Deposit & Withdrawal' of our website herein. Please keep the deposit slip. We may request the deposit slip for verification in case of need. Should you have any enquiries, please do not hesitate to contact our customer service hotline on 2111-2222, or, for the hotline in Mainland China (free of charge), 4001 200 623 with internal extension on 6200.
Important Notes
Third party's deposit is NOT accepted.
You SHOULD notify us of your funds deposit by using the method at below:

You can make a deposit instruction by select "Deposit" section after login, after that you fill in the deposit details and click "Send" submit to us. (Recommended)
You may complete a Funds Deposit Form and send it to us by e-mail to hotline@sctrade.com or by fax (852) 3101 9200 with the deposit slip.
Alternatively, you can contact our Customer Service Center at 2111-2222.

Saturday and Sunday are not regarded as business days.
Daily cut-off time of funds transfer instructions within different trading accounts is 3 pm.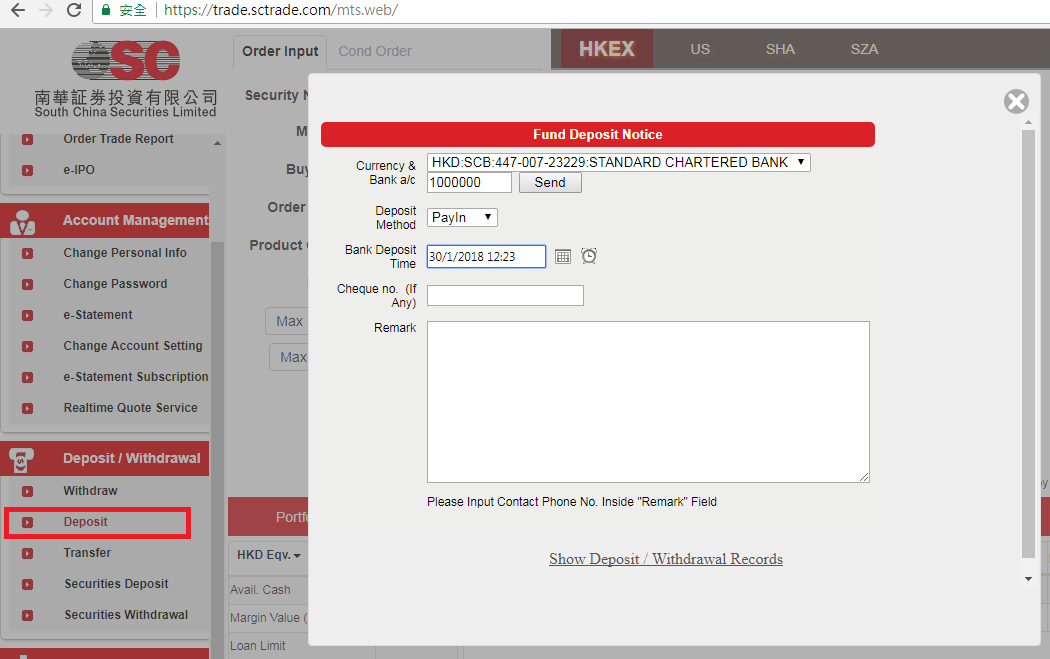 Deposit at Bank Branches (Bank Details)